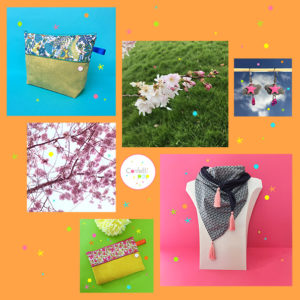 And NO, I'm not more Super Woman than you.
I can't keep up my professionnal schedule 😓
while the five of us are locked,
I have to manage all the house's logistics (I feel like I cook a Sunday lunch every day), and keep entertained, cuddle and working our 3 girls.
Every day I push my to-do list tasks to the next day, and I see the weeks scrolling with a powerless feeling. Production of the new collection, e-shop advertising, pictures and posting of products, social media posts, sales postponed…
Nothing is going as planned.
No way to have some long time slots to work focused and efficient… But I can't going against the flow, let the situation and the spirit deteriorate, and share my bad mood with everyone.
So, I choose to grin and bear it, and I do my best. I'm trying to turn towards everything I can find positive in this situation: the Spring is finally arriving in England and allows us to enjoy the garden, our big house that offers to each one somewhere to isolate themselves, the good time shared all five doing new things, the good mood everyone tries to put in this strange daily life, virtual meetings with family and friends that make us feel like opening the window to the outside,
and simply HAPPINESS
to be alive,
to be healthy
and to love each other !
Take care of yourself and try to let it go just a little bit :
BE HAPPY 🙂