But finally what is the Liberty ?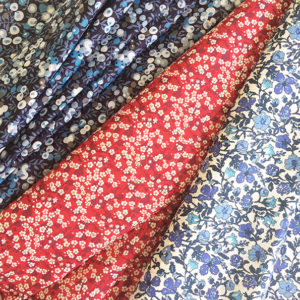 Liberty Tana Lawn Cotton is an extremely light cotton which is amazingly fine and delicate. Its exceptional softness is very close to that of silk. It comes from the very tight weaving of long cotton fibres which originate on the banks of lake Tana in Ethopia on the border with Egypt and Sudan.
The floral patterns are of course characteristic of the brand, but there is also an extensive range of other subtle and understated patterns – you can find a wonderful selection of these in my designs.
The sophisticated marriage of shimmering colours (up to 18 shades in the same fabric) make mixing and matching of colours a perfect way of customising a block colour outfit.
It was invented in 1884 by Arthur Lasenby Liberty ; cloth manufacturer, globe trotter ; who in 1875 first opened a shop in London selling goods from the British Empire in the East.
In 1900 Liberty opened a branch in Paris and the Liberty style thus radiated around Paris ; and has inspired fashion designers through the ages ; Poiret, Yves Saint Laurent and of course Cacharel during the 60s. More recently it has inspired Marc Jacobs, Balenciaga, Isalbel Marant, Sessun, Clarke's or Bensimon.
Incidentally, today the Liberty fabric is more appreciated in France than in the United Kingdom. It's high quality also accounts for it's considerable cost which is around £25 per metre.
How can one not fall under the spell of these unique, soft fabrics which are both chic and sophisticated whilst remaining simple and unpretentious.
Before arriving in Engand I was already in love with Liberty, and I confess that coming here has inspired me to want to share this passion with you. A wonderful source of inspiration which evokes freshness, poetry and sweetness.