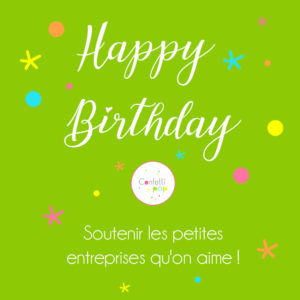 Today, Confetti Pop is turning 2 !
What would make her most happy for her BIRTHDAY?
Whether you're talking about this little brand of sparkling, poetic and colourful accessories around you. Because you like what I'm doing, whether you want to support the handmade, encourage a small business or help me follow my stars…
How ? Like, comment, share posts and stories on social medias, tag your friends, leave a review with ⭐️ on the Facebook page, post on the networks with your favorite products (and the #confettipopaccessoires)…
The whole Earth has the right to know that the e-shop is open !  https://confetti-pop.com/?lang=en
Thank you for your SUPPORT 🧡 this is my most beautiful 🎁!